My greatest musical inspiration was my older brother, Mark. Mark's first "real" guitar was a '54 Telecaster. So when we decided to make our first single coil guitar… the writing was on the wall. I wanted something that was inspired by my brother. Russell and I discussed the lower horn quite a bit. We settled on a horn design that was unique to CMG. While it reflects our Ashlee, it's also got the "quack and pop" that you'd expect.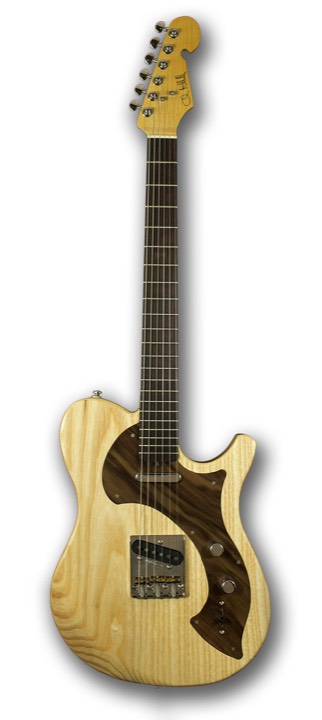 The Mark Nashville features an inlaid tone wood pickguard and forward volume knob placement. The Nashville Mark is only available in Swamp Ash. You can choose your tone wood for the pickguard.
Features
Inlaid Pickguard and Arm Bevel
Our Mark Nashville has a hardwood inlaid pickguard that offers classic styling with a bit of flair. The Mark Nashville also has a contoured arm bevel that allows you to play for hours in total comfort!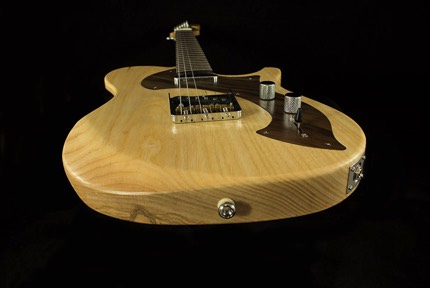 Rear toggle and Forward Volume Pot
The rear toggle design allows us to put the tone knob in the forward position. This allows you to get those nice volume swells like a pedal steel.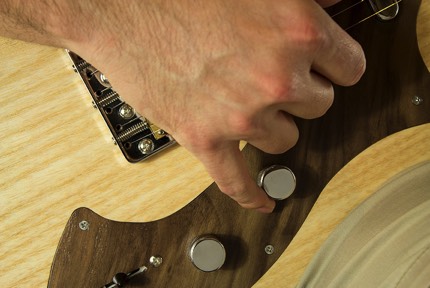 Construction
Body: Mahogany or Natural Ash
Neck: Maple
Neck Construction: Single Piece
Neck Joint: Bolt On
Fretboard: Rosewood
Top: Maple or Natural Ash
Binding: Masked
Fretboard Radius: 12"
Width at Nut: 1.687"
Width at 12th Fret: 2.186"
1st Fret Thickness: .86"
10th fret thickness: .95"
Heel Depth: 1.620"
Body Thickness: 2.25"
Scale Length: 24.75" (24.562" actual)
Inlay: Side Dots Standard
Weight: Between 8 and 10 Pounds
Finish: Nitrocellulose Lacquer
Frets: We use Stew Mac #141 Medium / High fret wire. Width is .095", Crown is .045", Tang is .073". Our slot is .023". Of course all fret measurements are prior to radius and fret work on the fret board.
Pickups / Extras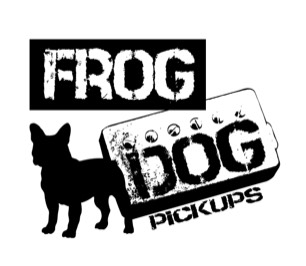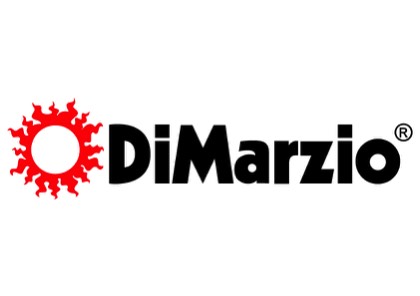 Standard: Frog Dog™
Optional: DiMarzio™, Area-T (noiseless)™
Tuners: Grover™ - 18:1
Bridge: Wilkinson® with Brass Saddles
Tailpiece: Fixed
Let's face it - Leo got it right with this. All of our Mark models come with the belly cut. She hugs you just right!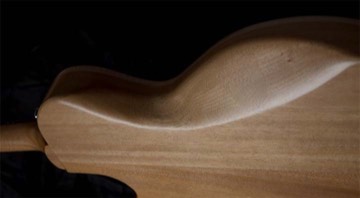 The Mark has a spoke style truss rod to allow for easy adjustment (with almost any tool)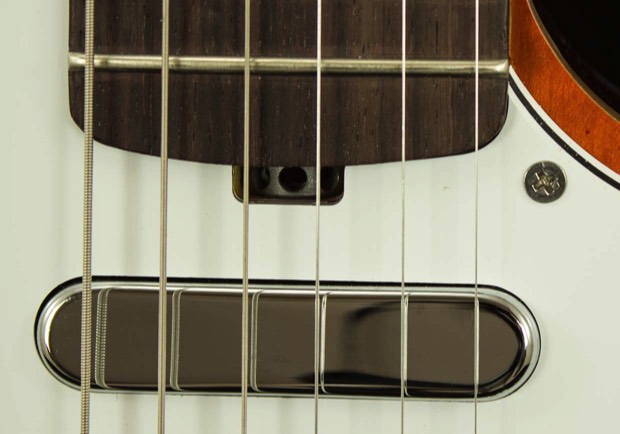 The "Mark" is our newest model.

1. You can get standard single coil pickups
2. You can order it custom with DiMarzio Area-T noiseless single coils

The DiMarzios are GREAT!! They produce no hum even when playing with a high gain overdrive. They still provide the slap and pop you've grown to expect from a single coil.

The Mark is a bit different than your standard Nashville favorite.

First of all, the neck scale is 24 3/4". You read that right! It's built on the same scale as our Ashlee! If you're the type that feels that extra half inch is just too long… YOU'RE NOT ALONE!! And we're here to help!

My first guitar was a 25 1/2" scale. I always felt like the neck tension and reach slowed me down a bit. Once the shorter scale and my fingers finally crossed paths, I knew that the 24 and 3/4" scale and I would get married.

We've also put a spoke truss rod wheel at the base of the neck. This allows for quick adjusting - even if you can't find your hex wrench.

Did I mention that the Mark also has a belly cut? You're welcome.
CMG Guitars is located at:

1993 Randy Lowery Road
Statesboro, GA 30461
(912)764-3230
CMG Guitars specializes in manufacturing guitars for the working musician. We also build customs upon request. Feel free to give us a call or contact us via this website!